You may have read our blog posts about all the different Whites and Blacks and now you are wondering about the other colors as well? Or you are just curious about what sets the paint brands apart besides just the price?
Facepaint.com sells more than a dozen different brands of face paints, so which one to choose for your kit?
After 5 years of face painting I realize how much "learning money" I paid, simply because I had to learn my brands and test what works for me and why. How many pots of paint did I give away because the paint did not work for me or for the application I purchased it for? How many times have I been disappointed by a high quality brand but positively surprised by a value brand?
How many times was I confused if I asked in a forum for advice and got so much information but still not specific enough to decide what I needed to purchase? So many facts are to consider beside of just the color, price or the look of the container? There is consistency, smell, opacity, blending ability, staining, smudging, storage stability, you name it!
Either way, don't look any further; the following chart is what you were looking for. The Facepaint.com bloggers put together all our years of knowledge to make it easier for you and we hope this chart helps you choosing the right brand for the right application. We are also delighted to offer sampler packs of different brands of paints, so you can try out on your own!
Happy Painting!
Manuela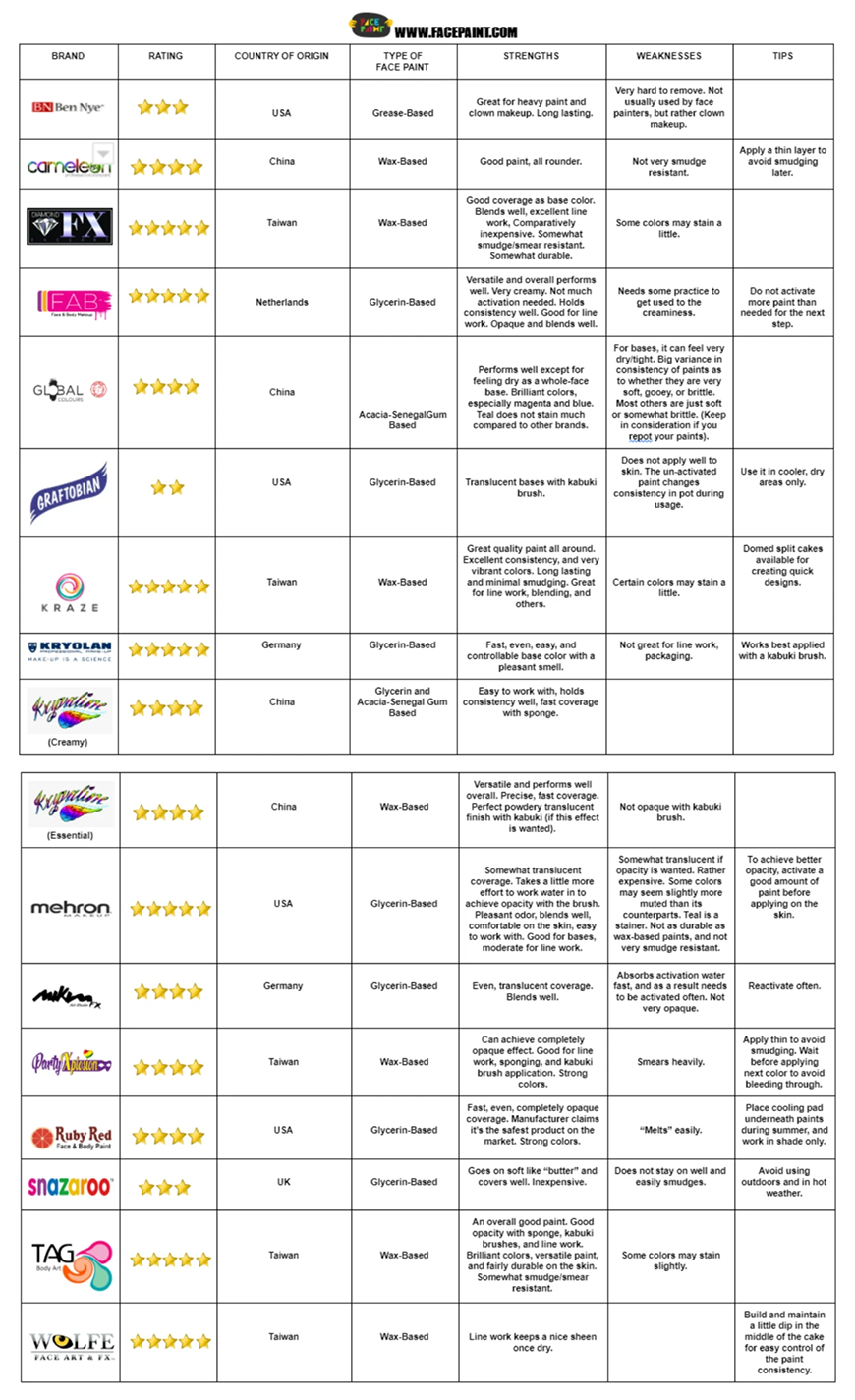 Comparison of Face Paint Bases
Most of our face paint brands are glycerin based, which generally stay very comfortable on skin after application compared to wax base. They are ideal for blending and not widely used for line work. Second commonly found paints are wax based, which tend to dry faster and stay longer than glycerin based paints and are popular for line work and layering. Acacia Senegal Gum base found in brands like Global and Kryvaline Creamy line, is known to provide adhesive and skin conditioning effects.
Cream based paints are easy to apply directly, stay smooth on skin, and have longer drying time. Powder based paints can be applied dried or wet depending on specific application. When applying dry, apply a very thin layer of primer on skin before applying powder. An alternative for primer is to wipe the area with a wet wipe, which will leave enough residue to hold the powder. Mix with a mixing liquid and apply for durable applications resistant to sweat.
Alcohol based paints are popular for professional applications, outdoor events etc as they tend to be waterproof and sweatproof and can be used in pool parties etc. Alcohol based paints are mostly intended for airbrush applications.
Grease basedpaints are extremely durable formula used by professionals and clowns. Harder to remove than face paints, grease makeup is not generally used by face painters. Grease paints do not dry and should be set with a setting powder and after use requires oil based makeup removers for removal.
Our major brands and their base information
Base

General Features and properties

Glycerin

● Smoother Cakes
● Longer Drying Time
● Ideal for blending
● Not recommended for linework or details
● Setting powder for durability
● Water Activated
● Generally more comfortable on the skin 


Wax

● Harder Cakes
● Dries Fast
● Ideal for linework and details
● Great for layering
● Can be used for blending
● More Durable than Glycerin based 
● Water Activated
● Some brands may feel tight or dry on skin after drying


Acacia Senegal Gum

● Adhesive and skin conditioning
● 

Water Activated

Cream Based
● Creamy
● Dries slowly
● Ideal for base work
● Not recommended for line work
● Durable with setting powder
● Apply directly without any water
● Feels comfortable on the skin

Powder Based

● Apply dry over a primer
● Mix with mixing liquid to apply wet
● Can be sealed with a sealer for durability 
● Generally these jars are fragile and re-potting is recommended

Grease Based

● Used by professionals & clowns
● Do not dry and should be set with setting powder
● Sweat resistant and durable
● Cannot be easily removed like face paints
● Remove using an oil based makeup remover

Alcohol Based

● Waterproof and Sweatproof
● Theme parks, outdoor events, pool events
● Use directly or after thinning
● Generally apply in an airbrush machine
● ProAiir DIPS is a brush on product
● Hybrids may be used on the face